Media Success Blueprint™
Your Proven Path to Publicity with Purpose
Are you a woman nonfiction author who wants to sell books while also making an impact and changing the world?
If so, you're in the right place. In fact, it's my mission to teach women nonfiction authors like you how to get your immense wisdom into local, regional, and national conversations that happen in Media every day. Why? Because when women nonfiction authors enter the conversation, we don't just contribute to it, we fundamentally change the conversation. And conversations need to change.
If that resonates with you, please read on.
As a nonfiction author myself, I understand your journey and I want to make the path to publicity and impact easier for you.
I'm someone who has spent decades behind the scenes in high profile television, so I know how Media really works. After many years on The Oprah Winfrey Show, The Today Show, and NBC Nightly News, among others, I had a massive advantage when my parenting book came out in 2010. 
But it wasn't about who I knew in TV. It was about what I know about how TV really works. And I want to share that insider knowledge with you in a way that actually prepares you for Media and teaches you exactly what to do to get publicity on your own.
That's why, Media Success Blueprint™ is now available as a fully self directed course, outside of my group coaching program.
Past Media Success Blueprint™ students have gotten themselves in front of audiences of more than 85 million people during the 8 week program and done game-changing interviews because they were truly prepared for media success. Altogether, my students and clients have reached audiences of more than a billion. That's billion with a B.
Media Success Blueprint is the foundation for success for my students and clients and it can be yours too.
Thanks to Mary, I was featured in The Chicago Tribune and have already done 2 live television interviews. I highly recommend Mary's program to any author — or aspiring author — looking to hone their message and develop their interview skills. As authors, many of us naturally love to write but find it challenging to share the same information in spoken form. Mary will teach you how to take what you've written and translate it into a media interview that will get your work the attention it deserves.
How Does This Kind of Media Success Sound to You?
Boosted credibility and prestige as you become THE sought after expert in your field in Media
Growing your audience

with people who need your book, message, and wisdom

Having the skills and confidence to successfully pitch the Media on your own without ever having to pay a publicist
If you are working with a publicist, understanding what the Media actually wants, so your opportunities for publicity won't stop when your 3 month contract ends
Doing media interviews with the ease and confidence to deliver your message clearly
Actually selling more books, rather than using bro-marketing tactics to appear that your book is a bestseller (I said it.) Because being a "bestseller" in an obscure, teeny tiny category isn't real and it gets you nowhere. Real is what matters. And media appearances sell books when you know what you're doing. That's how I became a real #1 Bestselling Parenting Author and I share how it happened for me because it is possible for you too.
Having the Media reach out to YOU! (Media attracts Media.)
Your credibility grows so you get inquiries for speaking opportunities and/or new clients.
Growing your impact and truly making a difference as a woman nonfiction author with incredible wisdom to share

This is all possible for YOU with Media Success Blueprint.
Are limiting beliefs holding you back
 

from getting the publicity you deserve?
#1
You think you have to spend tens of thousands of dollars on a publicist to have a chance at national publicity.
(Not true.)
#2
You think you already need to be a Bestselling Author or no one in Media will see you as an expert worth booking.
(Not remotely true.)
#3
You believe you have to know someone "on the inside" in the Media in order to land high profile publicity.
(Don't get me started!)
I'm a Book Marketing/Media Strategist for women nonfiction authors, #1 Bestselling Author, and former Post Producer for The Oprah Winfrey Show. I've worked in high profile television for decades, including years on Today, Meet the Press, and NBC Nightly News.
I teach women nonfiction authors how to get national publicity and do media interviews that sell books, grow their impact, and change the world.
I'm not here to play small and I don't think you are either.
As a nonfiction author whose book catapulted to #1 in Parenting and broke into Amazon's top 100 after a media interview, I understand the power of traditional media to sell books. 
My unique and proven coaching framework, The Media I.M.P.A.C.T. Method™ which is based on working on more than 10,000 television interviews in my career and being interviewed in Media myself, has consistently led to success for women nonfiction authors in local, national, and even international media.
I wrote my book to change lives and I bet you did the same. So if your book sales and your impact aren't what they should be, let's change that.
Because your book is just the beginning.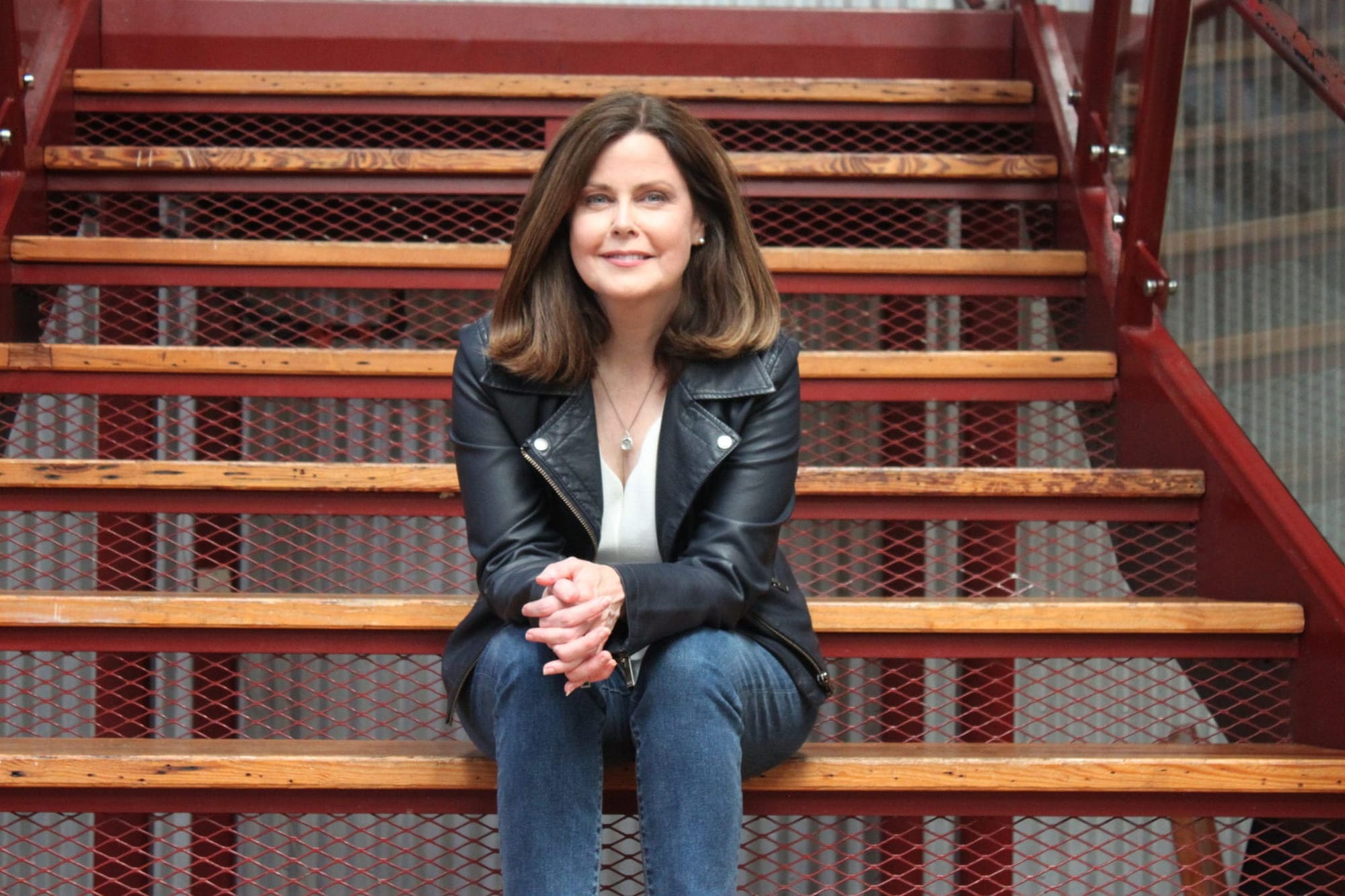 Your Media Success Starts Now!
During this 6 module course you'll learn the crucial skills you need to:

✓ Get TV, radio, podcast, print, and online interviews on your own.

✓ Deliver your message in interviews with clarity and confidence, creating marketing assets for your book, brand, and world-changing mission.

✓ Connect to your audience in a way that actually brings tangible results like book sales!
Get a full year's access to the course so you can be prepared for publicity before your book comes out, when your book is launching, or after your book has been out a while. (Your book is not egg salad y'all…it won't go bad in the eyes of the Media!)
The six modules of lessons are based on my Media I.M.P.A.C.T. Method™: Identity/Messaging/Pitching/Amplification/Communication/Transformation
This powerful step-by-step framework is designed to provide nonfiction authors like you with what actually works to achieve media success. Most authors start with pitching and that's a huge mistake!
Valuable bonuses include easy-to-use pitching templates previously ONLY available to my clients!
All of that, and Media Success Blueprint is only $2,500
I've taken a number of online courses over the years and I can say without reservation that Media Success Blueprint is the best. Mary is a phenomenal teacher — well organized, articulate, creative, generous — and she takes genuine interest in each of her students.  My only regret is that I didn't know about Mary's class before my book came out. I gained much more from being an MSB student than from the one-on-one marketing consultant I hired. I truly can't say enough good things about this course!
During the course I was interviewed for bustle.com, an online magazine reaching roughly 50 million monthly readers. Shortly after completing the program I was featured in two separate feature length articles on Thrive Global, which has an audience of more than 10 million monthly readers.
Mary's experience in the media industry, her seasoned wisdom, and her encouraging, supportive spirit made for an absolutely incredible experience. I highly recommend Mary as a media mentor. She gets results.
Media Success Blueprint™ Details:
Proven Results – Previous students in the live cohorts have gotten themselves in front of audiences of more than 85 million people!
Now available for you to take any time, without waiting for the next live cohort of my twice-yearly coaching group
Core content including 24 high quality video lessons (also on audio)
The modules come out weekly, one at a time, for 6 weeks (and you have access for a full year.)
Powerful bonuses that have previously ONLY been available to my clients (like easy-to-use pitching templates and pitch samples that will have you pitching in no time!)
A strategic curriculum that gives you the tools to get booked in Media and do successful interviews.
Since the course itself is fully self-directed, you can take it at your own pace and won't ever feel behind.
In Media Success Blueprint™ you will learn how to get booked for high impact media interviews (without having to pay $20,000 or more to a publicist) and how to intentionally create valuable and profitable marketing assets that serve your audience every single time you do a media interview.
Media Success Blueprint™ is only $2.500.
In my proven Media Success Blueprint™ program you can take step-by-step action using my proprietary Media I.M.P.A.C.T. Method™
Identity
Prepare the Foundation for Your Media Success
Embrace an unstoppable media mindset that will give you an advantage right from the start.
Identify your key guideposts to have an intentional media plan before you pitch the Media.
Craft the 3 Media Bios that will serve as powerful brand ambassadors boosting your credibility and expertise.
Fearlessly zero in on exactly who needs your book and message and commit to serving that specific audience.
Messaging
Go from Confusing to Crystal Clear
Nail your core message and stand out in the sea of authors vying for media attention.
Get your website media-ready and don't miss any of the 9 critical elements you must have to attract media! (Even missing one of these can make them skip over you for an interview.)
Discover the "hidden pitch" you're already making to the media so you can be sure it is conveying your message clearly.
Understand the media landscape so you can target the right media outlets for your specific audience.
Pitching
Week 5: Learn to Pitch Like a Pro
Learn how to target your pitch and reach the exact producers, columnists, and journalists who can book you.

Discover 11 effective ways to capture the media's eye and get your message the attention it deserves. 

Develop your pitch with templates that take you from subject line to signature, to make it easy for media insiders to book you quickly. 

Optimize your pitch timing so that you make it past the email inbox and into the studio for an interview.



Amplification
Establish Your Unique Media Strategy
Learn how to think like a producer to stay in the driver's seat during interviews.

Build a deeper connection with the audience with the single most important story you can tell in a media appearance.

Create sound bites that make your message memorable, shareable, and impactful.

Maximize your "pre-interview" so national producers are confident in booking you for game-changing publicity.
Communication
Communicate Effectively in Media Interviews
Learn the critical things needed for an

impressive remote interview

(this is mandatory given how many remote interviews are happening now!)

Discover

how to dress

 (and what you should

never

wear) to look your best on camera.

Plan and deliver successful print, podcast, and radio interviews, even if you're doing them in your pajamas from home!

Discover how to handle an off-track interview so steer it in the direction of your intention and still get your message out clearly.
Transformation
Plan for Your Long Term Media Success
Learn how to get your clips and permanent links to all your media interviews because you never want to lose your marketing assets!

How do you know your media interviews will get results? When you create transformation in the audience with these strategic steps.
What if your media interview brings controversy or pushback in any way? No worries! You'll have a plan to handle it all with ease.
Revisit your identity as an author and expert and identify the types of resistance you may be facing as you expand into what is possible for you in Media.
Media Success Blueprint™ is full of excellent content.  Mary O'Donohue is an expert who walks you step-by-step through the process.  She starts with foundational topics such as mindset and identification of target audience. Then, Mary helps with messaging, pitches, and media strategy.  Finally, she prepares you for media interviews. I'm a first time author and am now confident to handle any media interaction with poise and grace, thanks to Mary's guidance.
Media Success Blueprint™ is a unique and necessary program for nonfiction authors. Mary, with her expertise as an author and post producer for major television shows, has behind-the-scenes information that is invaluable: You can't "google search" the information she shares. Once you go through her program, you will have specific skills to promote your work to media outlets, including television. I absolutely loved this program.
Media Success Blueprint™ has a Strategic Curriculum That Builds Week-to-Week.
+ Video Lessons
A full year of private access to 24 professionally produced videos geared toward mastering key media skills.
+ Audio Versions
Audio versions of each lesson will be available to you so you can listen on the go for your convenience. Ideal for a busy lifestyle!
Valuable Bonuses
The bonuses related to specific modules are released with that module so you'll get additional support when you need it most.
Fits Your Schedule
Media Success Blueprint is completely self directed so you can watch or listen to the lessons when it works best for you.
Gleaning valuable advice from a media insider is gold! Mary was very generous in sharing her wealth of information. She was also encouraging to each member of the group. Mary wants
authors to succeed and she gives them the tools to do that. 
Valuable Media Success Blueprint™ Bonuses
2 Pitch Templates
Crafting a pitch doesn't have to be intimidating. You'll get exclusive access to 2 bonus pitch templates based on my P.I.T.C.H. Method™ that are simple to follow and proven to work. These have previously ONLY been available to my clients and go back into my coaching program on Friday September 9th!
In the Pitching Module you also get access to a step-by-step pitching guide that takes you from subject line to signature. So you'll have plenty of tools at your disposal to make writing pitches a breeze!
2 Pitch Samples
In addition to the 2 pitch templates, you'll also get 2 fully written pitch samples so you can see what finished pitches looks like.
Only my students and clients get access to these samples and you can use them as the basis for your own pitches, making the process even more streamlined and simple.
7 Words that Cost You Publicity
Because pitching is the step that most authors are concerned about, I include another valuable resource. This bonus PDF is about what NOT to do when pitching so you can avoid the very common mistake that will immediately ruin your chances of getting publicity. Plus, this guide include 3 examples of using hooks effectively to grab the Media's attention right off the bat!
Remote Interview Success Guide
You'll look like a media-savvy pro in your appearances, even if the interview isn't in person!
This valuable guide tells you PRECISELY what steps to take to have a successful interview on Zoom. You'll learn how to look and sound your very best with tips on lighting, internet connection, microphones, wardrobe, and even backgrounds!
I'm not just a Media Coach who spent more than a decade with Oprah – I'm a #1 bestselling nonfiction author too. So I'm completely unique among media coaches out there. As an author, the media exposure my book received established me as a trusted expert in the parenting space, greatly expanded my audience, and turned my book into a
#1 bestseller in Parenting, and #97 overall out of millions of titles
on Amazon! Below are just a few images from my media appearances.
Mary is the real deal when it comes to Media. Her in depth knowledge of the industry helped me to gain the clarity I needed to understand my audience and message.  Within a few short weeks of being in Media Success Blueprint™ I was featured on Reader's Digest online site with a readership of more than 11 million people!
Mary takes you and your books to new levels of marketing. This is a must have program for every author! The value extremely outweighs the cost. Mary propelled my book years ahead in terms of marketing!
Your voice belongs in national conversations. It's time to harness the incredible power of Media to amplify your book, message, and purpose!
  Your investment: one payment of $2,500
With Mary O'Donohue's amazing media experience, I pounced on the opportunity to be in her Media Success Blueprint (MSB) program. I was fortunate enough to have met her previously at a Morgan James publishing event where her presentation was riveting. 
Working with Mary in her Media Success Blueprint program saved me thousands of dollars over what I would have paid a publicist. A superstar in the know, with over 3 decades of experience in television production, Mary teaches you how to get media attention.
Mary coaches with a benevolent style that is heartwarming. Both cheerleader and mentor, she shows you how to get it done right and stand out from the crowd. Mary helps you remember how uniquely talented you are and why your message needs to be heard. I take the processes I learned in Media Success Blueprint and simply keep applying them with great success! And you can too.
Since MSB, I have had 3 publishers ask for proposals, created media savvy bios, sound bites, and pitches, and with my pitch perfection got booked on 2 podcasts and became a featured provider for content on a popular fitness site in Australia!
I honestly feel like I'm ready for anything. This level of media confidence is priceless.
Q: Is this self directed course only for women nonfiction authors? A: Any nonfiction author can take this course and benefit from it greatly but it has been specifically designed for women nonfiction authors. I have worked with male authors before but my focus now as a media coach and strategist is to elevate the wisdom of women through national Media. 
Q: Is there a refund policy? A: Absolutely. If you are not happy with the program content simply send an email to [email protected] with Refund in the subject line within 7 days of purchase and my assistant will make sure your refund is issued within 2 business days. Please note, it may take several days to be reflected on your credit card balance.
Disclaimers and Tough Love: All content presented is accurate at time of writing in February 2023. Each student's success in this program depends on their own participation, level of commitment, and dedication to do the work. This is not a done-for-you program. Publicity is considered earned media and is not guaranteed. I make no warrantees or promises about what you will achieve. I can tell you that the authors who have been most successful are the ones who have done the work in every module and have pitched the Media consistently. You get access to this program for a full year after purchase, so there is plenty of time for you to utilize the content.
Details: Testimonials are from past students from my previous Media Success Blueprint™ cohorts with live Q&A that lasted for 8 weeks. This offering of Media Success Blueprint is completely self directed and there is NO live coaching or Q&A component. If you are a woman who is already a published nonfiction author, or you have a book coming out within the next year or so and you're looking for a live coaching experience, you can schedule an appointment with me here to talk about 1-1 or small group coaching: https://calendly.com/authorsinmedia/published-to-prime-time-discovery-session